NOTE: These tutorials use screenshots that show connecting by FTP, however you can only connect to CASLab servers using SFTP.
There are several excellent FTP clients available for Mac OSX.
Among these are Fugu and Cyberduck.  You can also use Apple's
buil-in FTP client, but it can only be used to read your files on
CASLab.  You cannot upload, modify or delete with it.
The following illustrates how to connect to CASLab using Cyberduck's SFTP capabilities.
When first opening Cyberduck this will pop up just hit change.

When you launch Cyberduck, you will see the following:
Click on "New Connection" and fill in as so: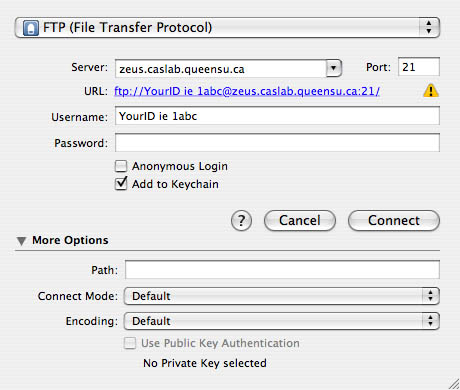 The first time you click Connect, you will see the following:
Click "Always."  After Cyberduck has connected to Zeus, you will see a listing of files in your home directory.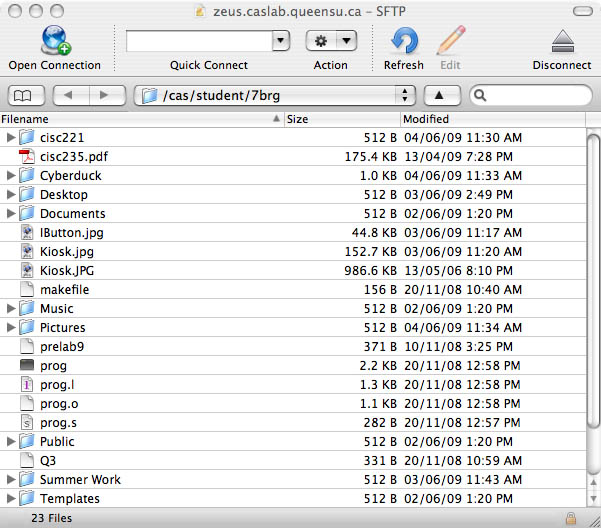 Students require iButtons to gain access to CASLab sites in Goodwin Hall
and Walter Light Hall. iButtons are available for a small fee ($2-$3) at the Campus Bookstore.
There is an "enrollment" station located in the second floor lobby of Goodwin Hall at
which students may activate their iButtons and set their CASLab account passwords. To enroll an iButton, a student must
provide his or her Queen's NetID.
Notes:
To see the contents of your Z: drive, select Go -> Go to Folder
Next, add .Zdrive after your home directory:

To bookmark this for later use, click on "Bookmarks" and fill in a Nickname: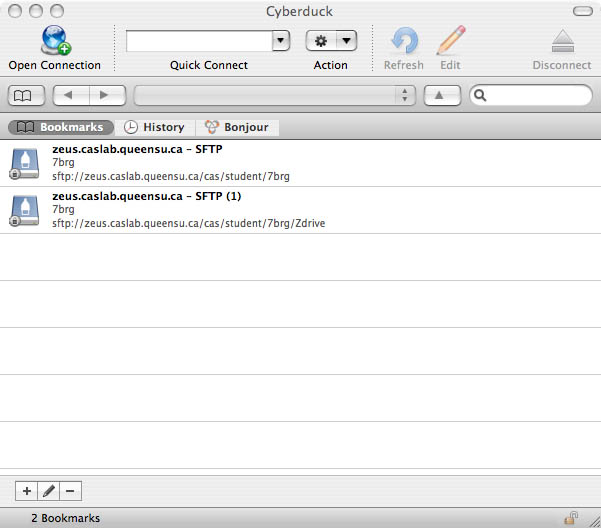 You can transfer files simply by dragging and dropping to and from
the window.  When you are finished, simply exit the program.
Cyberduck has many additional features.  For more information, please visit the Cyberduck website.