WUBI is a Windows-based UBuntu Installer. What it does is rather clever: It creates a single file on your C drive that is an entire Linux filesystem. It then modifies the Windows boot loader. Upon reboot, if you select CASLab Linux, it installs Linux onto the file that was created in Windows.
This page shows you what to expect when you install CASLab Linux using WUBI.
NOTE TO THE IMPATIENT: UPON FIRST BOOT INTO CASLab LINUX THE SYSTEM WILL GO TO A SCREEN WITH THE QUEEN'S LOGO FOR 20 MINUTES WITH NO OBSERVABLE PROGRESS. THIS IS WHEN THE SYSTEM IS SETUP. IF YOU ARE PATIENT IT WILL WORK PROPERLY AND REBOOT.
The DVD itself is available from Ben Hall or through the School of
Computing's main office on the fifth floor of Goodwin Hall.
Alternatively, you can download a custom version of WUBI and download and install it from home. Whether you download it or use the DVD, start by double-clicking on wubi.exe. You will be presented with the following: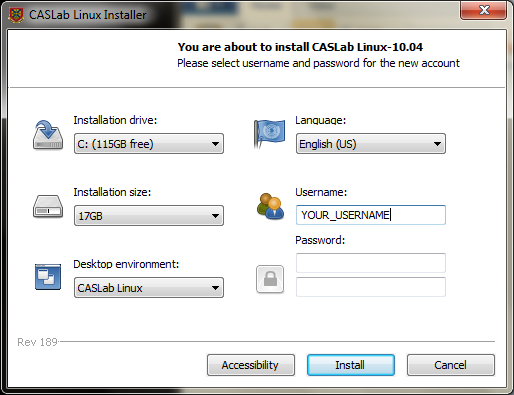 Fill in the information with your username and password. Also select the Installation size. (30GB max.)
When you click "Install" the installation ISO will either be downloaded if you are starting with wubi.exe, or will be copied to your hard drive if you are using the Live DVD: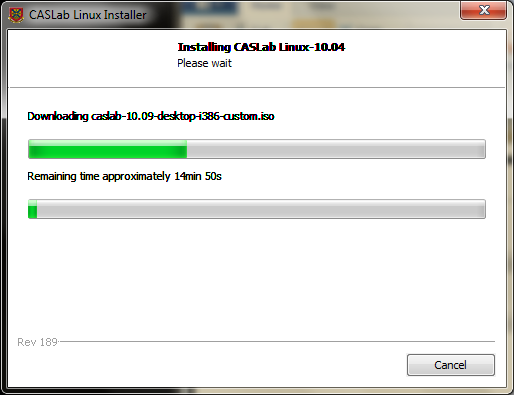 After this, the file is checked: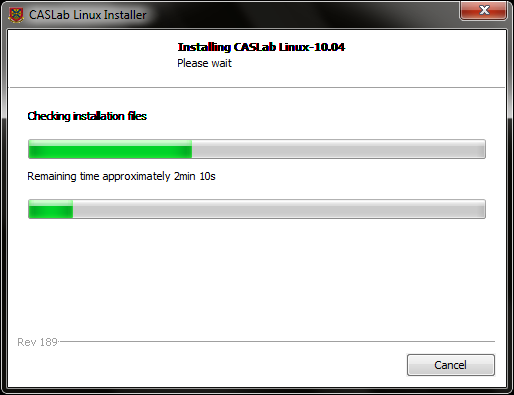 Then you are prompted to reboot: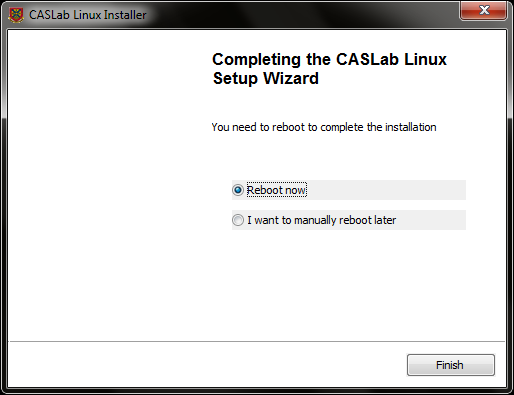 Upon reboot, select "CASLab Linux" from the Windows boot loader: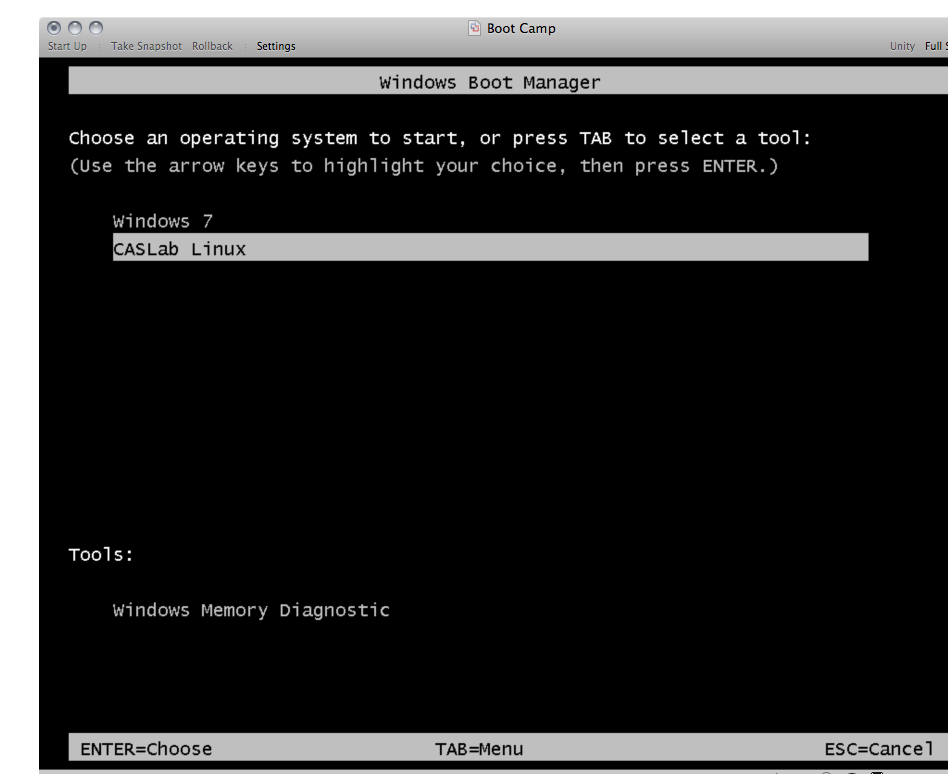 Next, you will see the following:
Unfortunately, for CASLab Linux, this stage boots to a screen with the Queen's logo (or a blank screen) for about 20 minutes while Linux is installed.
You can tell it's working because your hard drive light will be blinking constantly. Normally, you would be presented with a nice slideshow introducing you to Ubuntu Linux. Believe it or not, just getting CASLab Linux to work with WUBI was a real struggle. We ran out of time before we could sort this out. Sorry.
We suggest at this stage that you make yourself a nice tea or cup of coffee.
Once the system is installed, the machine will reboot. By default, it will boot back into Windows. If you select CASLab Linux instead, you will again see the boot screen and will then be prompted with the login screen with the username you provided: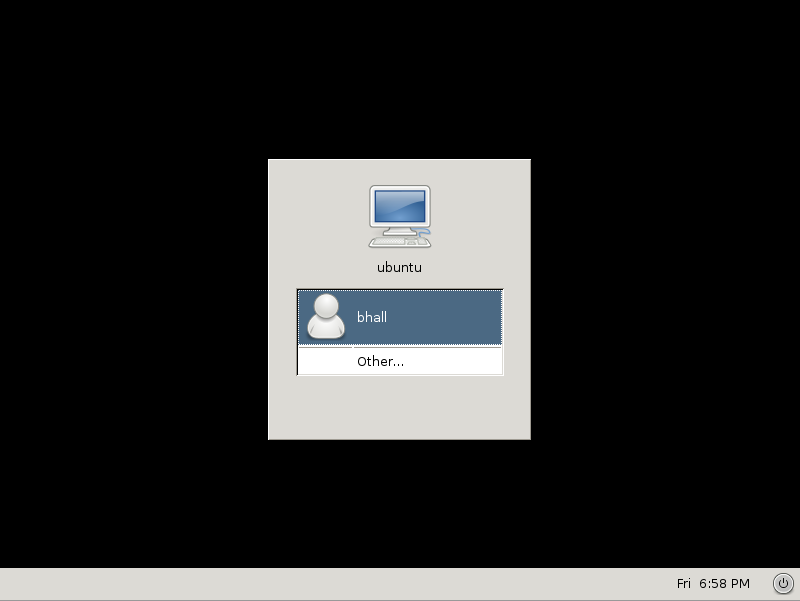 Finally, after you log in, you will be presented with the CASLab Linux desktop: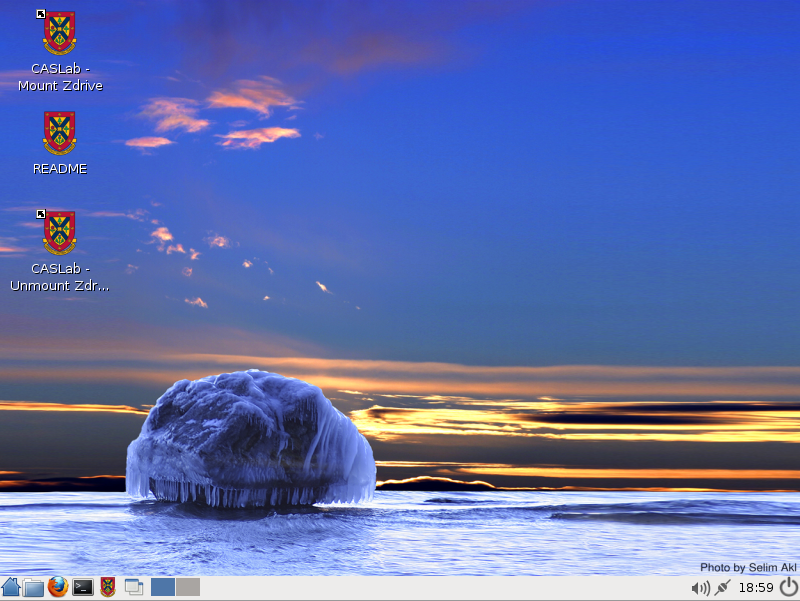 Congratulations! You're done.