You will either be given an invite link or sent an invite by email from your instructor. Click the link to sign up.
Note: You can ONLY sign up with a @caslab.queensu.ca email address. This REQUIRES a CASLab account, which all students registered in a CISC course should have. Your <netid>@caslab.queensu.ca will simply get sent to your <netid>@queensu.ca email. (For TAs: Unless you've been told otherwise, your CASLab account <netid> is you STUDENT netid and not an employee netID.) Also, <netid> is your Queen's netID and NOT your mail alias (e.g. if you have john.doe@queensu.ca, you won't be able to use john.doe@caslab.queensu.ca, your netid will be of the form 12jd34).

Any other email will not be delivered.
Fill out your email (see above caveat), an available username, and a password (it says optional, but it's not. (Note: if you were sent an invite by email, your email will be prefilled.)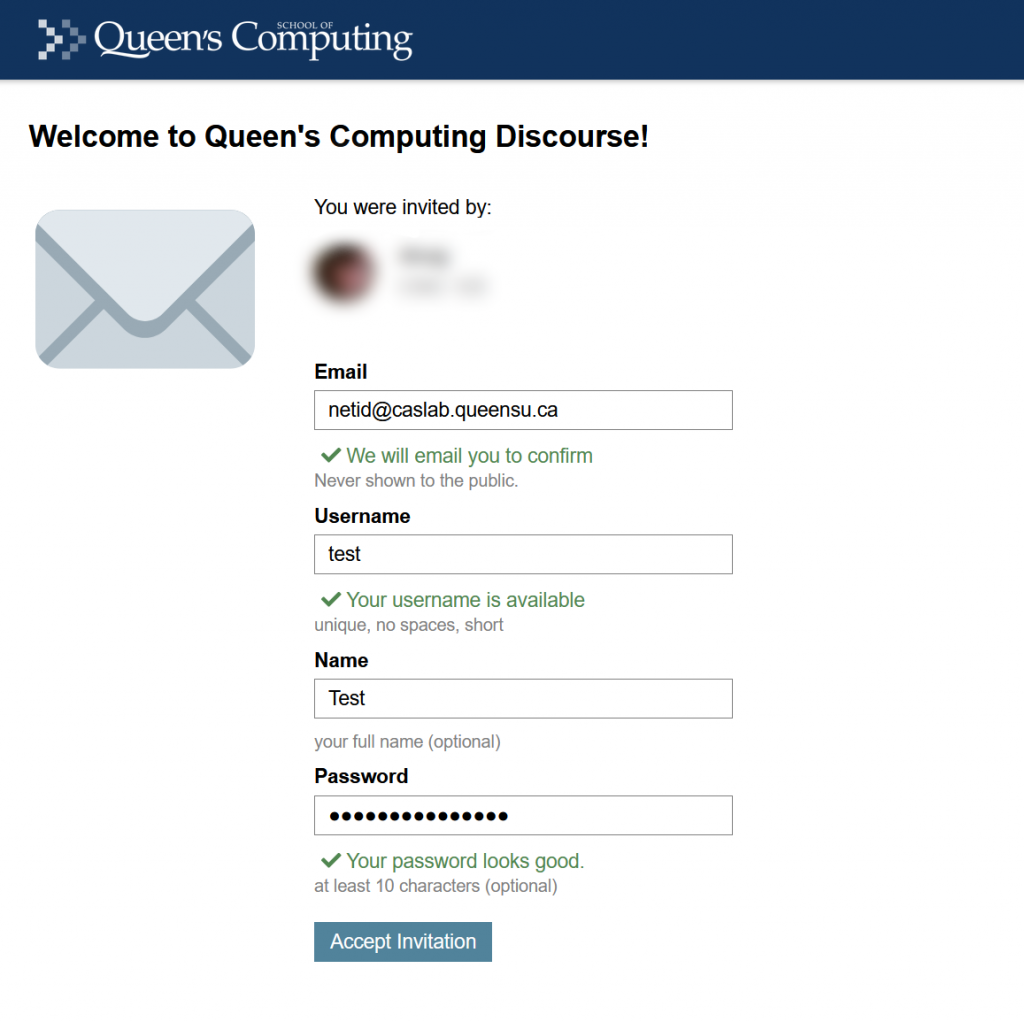 Click Accept Invitation. You will have to validate your email to activate your account. If you do not receive an email within a few minutes, you have probably either entered a non-CASLab email address (see above) or you do not currently have a CASLab account. If the former, click the Log in button at the top right and log in with your username and password. You'll get this message:

If the email shown is NOT a @caslab.queensu.ca (e.g. you tried signing up with your @queensu.ca email), you'll have to change it. Click "Change Email Address" and enter your @caslab.queensu.ca email address (see above) to try again.

If you still don't receive an email, or if the email shown is a @caslab.queensu.ca email, then it's likely you don't have an account yet. You can try resending the activation email by clicking the button on the left. If you can't receive an activation email after 24 hours (and you've followed all these instructions carefully), contact Doug Martin.
Once you get the activation email, click the link to activate your account and sign in.