Updated November 8, 2021
This page will be continuously updated to address questions and issues that may arise, so check back regularly and send any questions to events@cs.queensu.ca.
All participants must also register for the event!
Register to attend the Graduate Open House.
Intro
Grad Open House (Nov 25, 1-3pm) is a chance for grad students to meet with prospective students and show off their work. COVID restrictions prevent us from holding an in-person open house, so this year's will be hosted virtually on Hopin, an online browser-based platform for large events like this. Each student/group will get a virtual booth to demo and interact with guests.
Hopin Basics
Each booth has a side bar that contains your name(s), project title, short description, and any link that you may submit (a game demo, a PDF of your poster, whatever you like). More on how to submit that information further down under Customizing/Updating Your Booth.
The sidebar also has a list of people currently in the booth and a text chat. There is also a tab for the Event as a whole where you can see the people currently in other booths and chat with them. This is also a great place to communicate and ask for help from the organizers.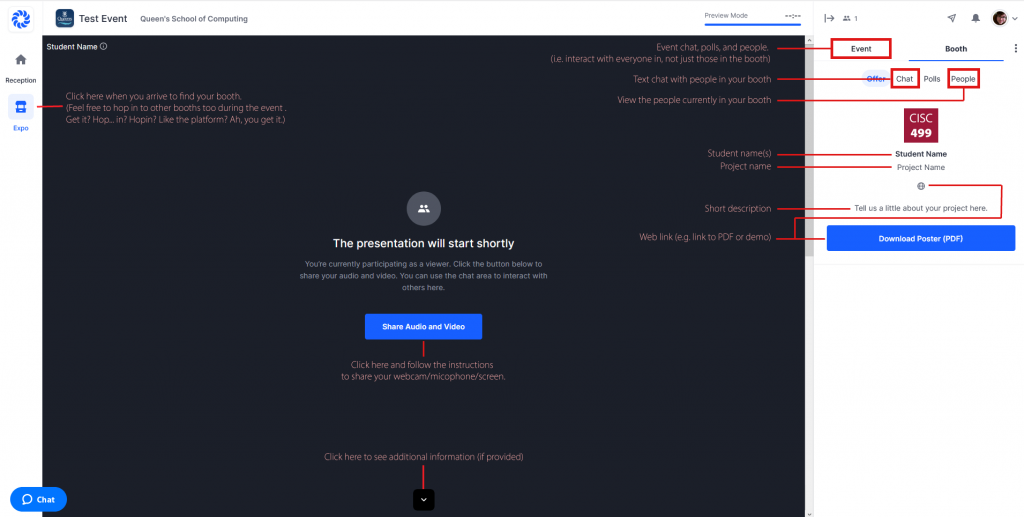 For the main part of your booth on the left, there are 2 options that you can toggle between depending on your availability:
1. Session (Default)
You are strongly encouraged to host a session. This is very similar to a Teams/Zoom room where up to 9 people can video/voice chat and provides the best experience for everyone involved.
You and (if applicable) your group can all be sharing your camera/microphone with attendees who visit your booth, and even let attendees share theirs to interact directly. Of course you can also interact with attendees via your booth's text chat. Like other video conferencing software, you can also share your screen. So you can be showing a poster or a PowerPoint presentation. Do whatever is appropriate for your demo.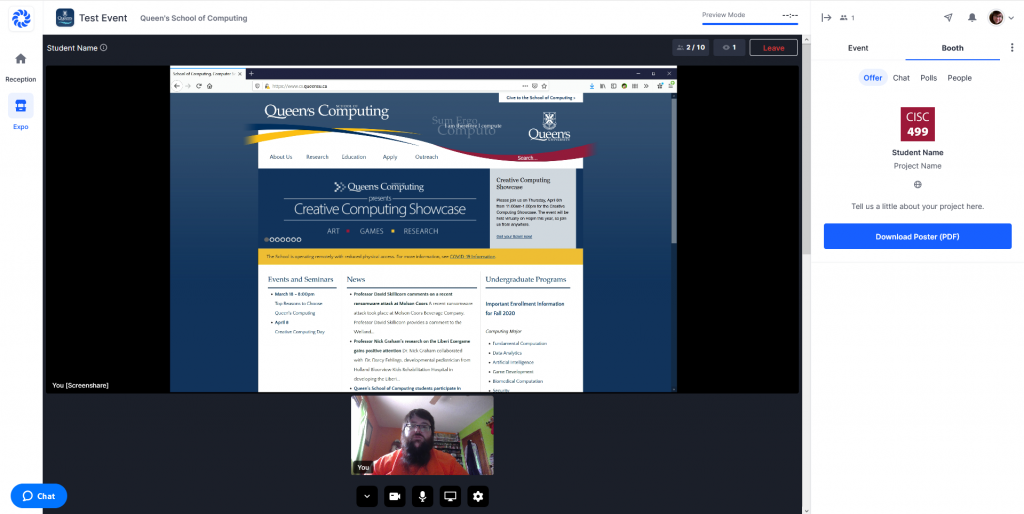 2. Video
If you are not able to make the event for some reason, you can submit a link to a YouTube or Vimeo video that visitors of your booth can view when they visit.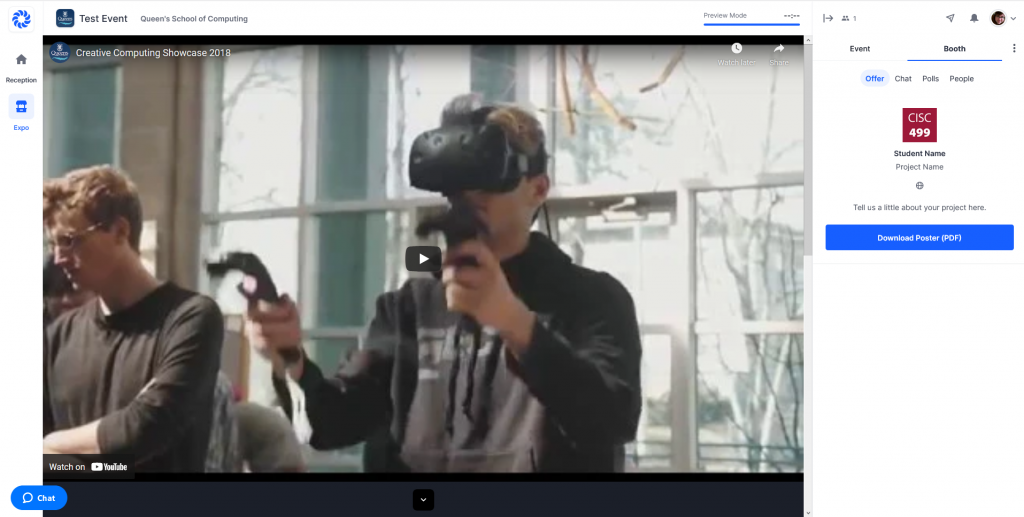 You can also submit a video if it you can only host a session for part of the time. When you aren't there, the booth will default to showing your video. You can toggle between the video and the session using the checkbox at the top right.


Customizing/Updating your Booth
When you register for a demo in the Open House, a booth will be created for you in Hopin. If you want to update the information you provided, you can contact Doug Martin or simply fill out the form again.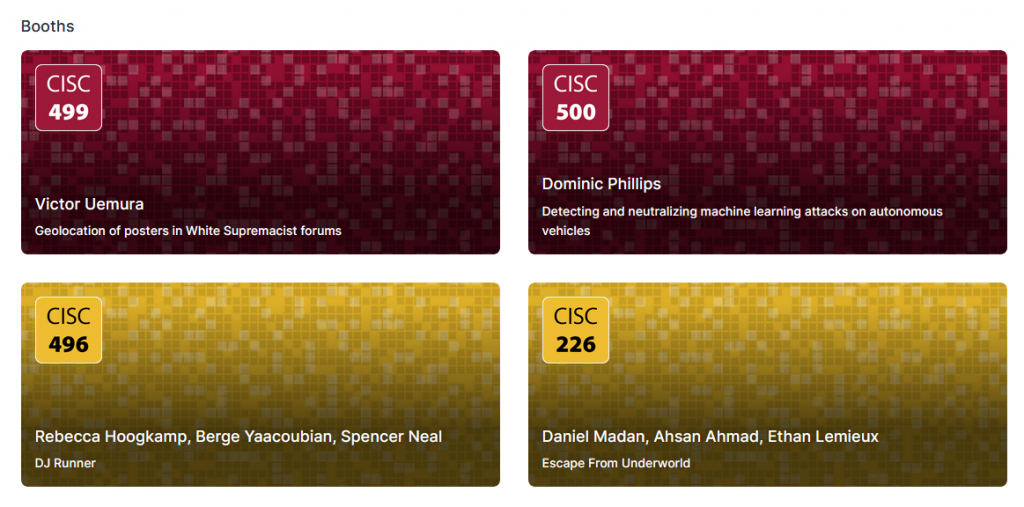 Fields you can customize include (see the booth legend above for what each field does):
Project title
Student name(s)
Short description
Banner image (to replace the generic red/yellow/blue background in the preview like the booths shown above)
A web link (to a PDF, video, demo, etc)
YouTube/Vimeo/Google Slides link (in case you can't be there)
Additional information (displayed when scrolling down in a booth)
Register your demo for Grad Open House.
How to Create a Video from a Poster Made in PowerPoint
First create a narrated Powerpoint by going to Slideshow > Record Slide Show > Record from Beginning.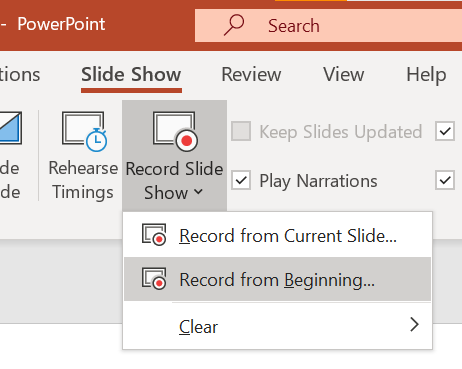 Before you begin, you may want to make sure your webcam is off so that it doesn't show up in the video and cover part of your poster. To do this, click the camera icon below the preview of your poster.
To begin, click the record button at the top left and begin speaking. You can optionally choose to draw on your poster as well while you're recording using the tools at the bottom.
When you're finished, click the arrow on the right side to advance the presentation.
Important: Do NOT press the stop button at the top. Only by clicking the arrow to advance the slide will you be able to record the timing. If you did click stop, and your video isn't saving your whole narration, continue reading for a workaround.
You'll now see a little sound icon at he bottom right of your slide. Saving the presentation should also save the narration.
To export your presentation as a video, go to File > Export > Create a Video. Be sure to select Use Recorded Timings and Narration from the dropdown, and make sure the quality is set to at least 1080p so that the text can be seen in the video. When you're ready, click Create Video, and select a somewhere to save it.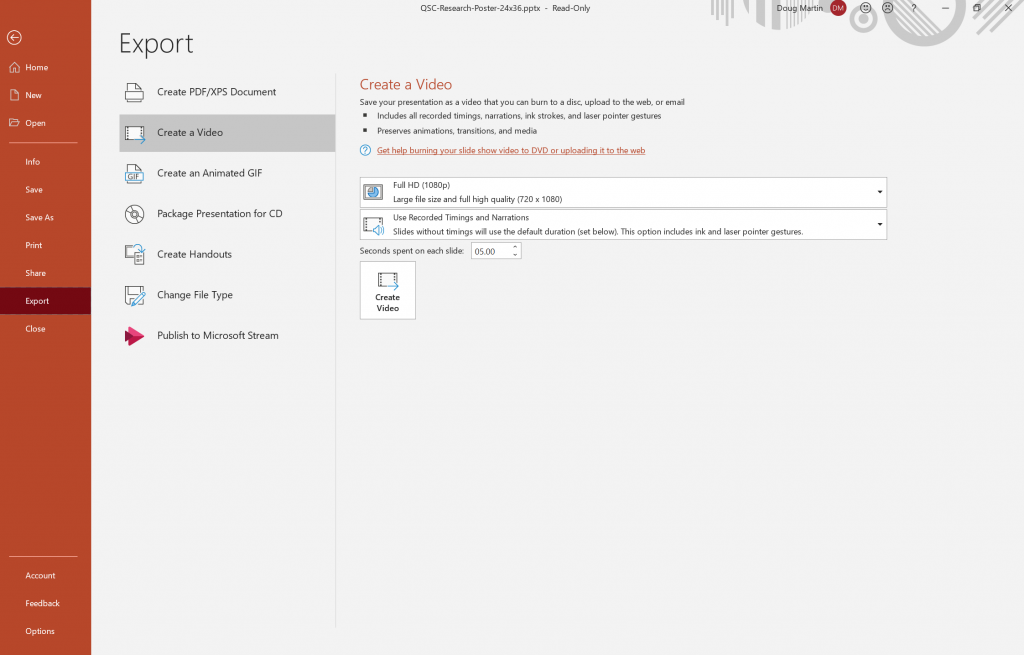 If you didn't properly record the timings when you recorded your narration (e.g. you pressed the stop button and ended the presentation without advancing the slide), you'll have to calculate how long your narration was and input it into the textbox above the Create Video button where it says how many seconds to spend on each slide. If you're unsure of how long you should make it, go back and hover over the audio icon on the bottom right of the slide and then hover over the end of the track to see how long it is.

Get a Shareable Link to a File on Your OneDrive/SharePoint Space
Go to the Queen's OneDrive/SharePoint page and log in with your Queen's Office 365 login. (Note: you may already be logged in.)
If you haven't already, upload your file(s) by clicking Upload at the top. If you have more than one, use a directory (when you share a directory, everyone can see what's in it).
Find the file/folder you want to share, right click it, and select Share.
In the resulting pop-up, click on "People you specify can view." Then, select "Anyone with the link" and click "Apply." Finally, click "Copy link" at the bottom of the pop-up and paste the link in the Booth Information Update Form.